Enjoy brilliant colors, pure ingredients and tasteful compositions. Our tomato tartar really tastes like tomato. We add supportive flavors to get the most out of pure ingredients: roasted vanilla brings out the earthy and sweetish tones; lime adds freshness. We smoke the tomato to add to its character and finish it off with Maldon to create the perfect balance.
Our chefs meticulously compose our continuously evolving menu, which always contains at least one element we picked from nature ourselves.
ROOFTOP MERCKT VEGETABLES
Beet • Raspberry • Parmesan • Smoke Broccoli • Coffee • Kombu • Lime Leaf
Pumpkin • Risotto • Bergamot • Vadouvan
Celeriac • Coconut • Almond • Grape
Potato • Shallot • Kombucha • Kohlrabi
Pineapple • Verbena • Spices • Beerenburg
70
ROOFTOP MERCKT CULINARY
Seabass • Salt • Dashi • Wasabi
Crayfish • Kombu • Verveine • Watermeloen
Plaice • Tomato • Stew • Eggplant
Pigeon • Hay • Pumpkin • Vadouvan
Beef • Cherry • Sprouts • Shallot
Corn • Milk • Madame Jeanette • Miso
80
Wine pairings
Wine tasting pairing 30
Wine pairing 54
Alcohol-free pairing 30
Rooftop Merckt House Aperitif
A glass of Veuve Clicquot Brut Yellow Label 14
The Raspberry Delight 12
Champagne Connection 16
Water MADE BLUE 5.5
For each 700 ml bottle we serve, we make a donation to MADE BLUE on your behalf. These donations are used to realize 700 liters of clean drinking water in countries suffering from severe water shortages.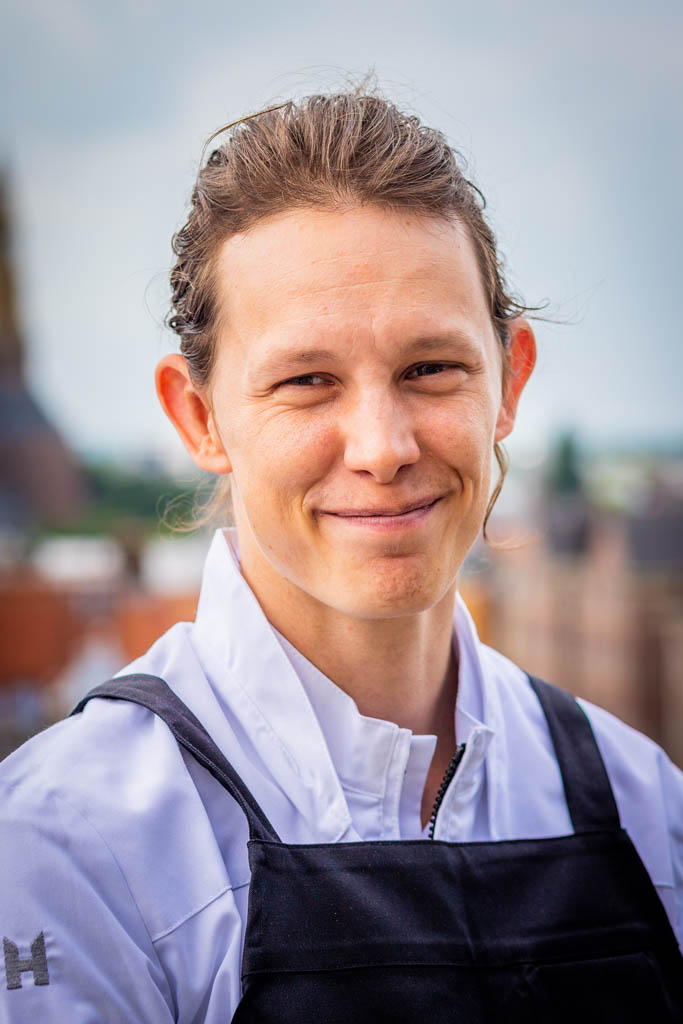 Meet Thomas Beekhuis — Head chef
Thomas Beekhuis is the chef in charge of Rooftop Merckt's kitchen. Passionately devoted to pure ingredients, Thomas made it to the final of the prestigious Bocuse d'Or at a time when he had already been awarded the title of the best young chef of the north of the Netherlands. A nature lover through and through, he picks his ingredients with care, carefully incorporating them into surprising and artistic dishes.